I think it is pretty well known around here that I am not much of a cook. My little man is also a pretty picky eater so it makes it very hard for me to cook for him. Ironically, a lot of the foods he will eat, I won't! Oh the joys right?? Well, not I have discovered a very affordable way to come up with unique meals that little man will eat! FRESH BABY has now come up with a 48-page toddler cookbook of foods that most toddlers enjoy! They are very simple recipes that even the busiest mom can throw together! These foods are a very healthy alternative to the hours in the kitchen that moms of the past did! What can be better than yummy, simple, kid friendly recipes??
I particularly love the section of the book that offers advice on how to convert picky eaters, the dos and don'ts about dealing with kids eating, and six tips for developing healthy eating habits. This is very important to me. #1 I am a nurse, I am a CHUBBY (okay to use text book terms-obese) nurse and I know how important good nutrition is. The childhood obesity rate has hit the roof lately, and I personally do not want my little man to suffer from that. He is already genetically predisposed to being overweight because both his Dad and I are, so any little thing I can do and LEARN to keep this from happening is important to me!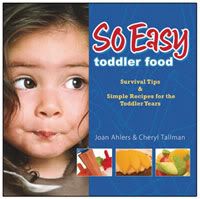 Buy It! This book is definitely something that busy, tired, health conscience moms should pick up! At less than $9 I say it is totally worth it.
Enter to win at
The Nurse Mommy