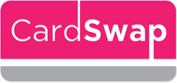 Got gift cards you'll never use? Need discounted gift cards?
There is a wonderful service available for our Canadian friends.
CardSwap is Canada's #1 site for discounted gift cards (10-40% off face value). Card Swap is a peer-to-peer online market for discounted gift cards (like an eBaybut only for gift cards). Savvy shoppers can save before shopping, and gift card holders can now redeem unwanted gift cards for cash. All gift cards are guaranteed and "CardSwap Certified".
cardSwap.ca is Canada's premier online marketplace dedicated to the exchange of gift cards. This online community efficiently connects buyers and sellers of gift cards in a safe environment. This is exclusively available to Canadians, tailored for our local retailers. cardSwap.ca provides a trusted third party service that benefits buyers, sellers and retailers of gift cards.
Buyer: Save money while shopping
cardSwap.ca helps shoppers safely purchase discounted gift cards hassle-free. Swappers can save a minimum of 10% up to 40%, through buying discounted gift cards either for presents or using themselves. All gift cards are verified before listed, to ensure they are valid. Payment is held by cardSwap.ca until the gift card has been received, then passed on to the Seller.
Sellers: Swap unwanted gift cards into cash
cardSwap.ca has created a safe marketplace for owners of unused gift cards to swap them for cash. Sellers can now list gift cards for sale at a discount. cardSwap.ca has eliminated the risk of meetings strangers at malls and the hassle of dealing with no-shows or unreasonable offers. cardSwap.ca will collect full payment on gift cards before the seller ships the card, so payment is guaranteed. Now the Seller can spend the cash on something they really want.
Retailers: Increase sales and profits
Canadian retailers can maximize redemption rates for gift cards through our retail partnership. Consumers typically spend from 40% up to 100% more than the value of the gift card. When redeeming gift cards, consumers are also less price sensitive, and usually require multiple trips to the store to completely deplete their card.
cardSwap benefits both consumers and businesses, enhancing and expanding the gift card market. It is safe, fast and simple!
How does the process work?
Seller posts a gift card for sale on cardSwap.ca after registration.
Gift card are listed only after passing through a validation process. Methods of verification are: online, automated 1 800 numbers, calling a store. If the gift card cannot be validated, they are not listed.
Step 3 – Payment from Buyer:
Buyer's search and pay for cards using INTERAC online. Buyer uses their own bank's secure portals to make payment. No credit card or financial information is provided.
After payment is received, gift card information and validation methods are sent to the Buyer for revalidation.
The Seller mails the gift card to the Buyer within three days. Seller is responsible for the method and cost of shipping. Buyer has up to three weeks to receive and use the card. In the small chance there is a problem with the gift card, the Buyer can request a refund up to three weeks after purchase.
After three weeks, the Seller is mailed a cheque for the sale price less 6% fee- minimum $4.50.
Be sure to enter their

iPod Touch giveaway. Enter PIN MK1112. Expires November 30, 2009.